Kundan Art Gallery's Production in Workshop
A Short View of Our Historical Tour
Kundan Art Gallery Established in 1999, by Mr. Raghveer Soni,Mr. Malchand Soni in its ownership. In other hand our new brothers names "Mr. Gopal Soni and Mr. Manoj Soni "are also trained in designing in shape making (Gaat) to make our products best in Bikaner. Which is the most power of our firm to make us different from other Kundan Art Provider in Bikaner. Our most strength is we provide our product in time and with a fully satisfaction of our customers. We think our customer are satisfied than we are successes in our work. Our workshop is fully updated with comfortable tools used to making jewellery. Our employee having a good experience in their field. Our workshop is established in Desert city, Bikaner, Rajasthan. For more detail you can contact us by sendin a mail on raghuveersoni007@gmail.com.
---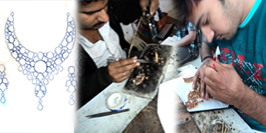 Designing & Shape Making (Gaat)
Kundan jewellery is one of the oldest forms of jewellery which is made in one of the purest form of gold that is 24 carat gold. Kundan is traditional Indian gemstone jewelry, a method of gem setting in a jewellery piece, consisting of inserting gold foil between the stones. Jadau Jewellery is also the only jewellery which is totally Handmade and Handcrafted by old craftsmen of India. After the gold sheet (Patra) has been prepared, the next step comes to shape the frame of the Jewellery. With the help of gold only, gold sheet is soldered with side walls by giving heat.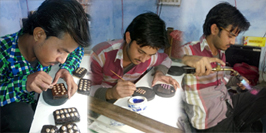 Meenakari Making
The art of decorating metal with technique of Meenakari requires a high degree of skill and application. The piece of Ghaat is to be done by "Meenakar's" which is fixed on a Lac stick. Drawing designs of flower, birds, on the back side of Patra using "Ghaat". Meenakar Makes Design on the Patra by Khudai with the help of small pen (Salai) after that the Khudai Meenakar's fixed the color combination of design like flower, birds. As each color is individual fired, color which are most heat resistant. Diamonds are prepared with fixing silver foil behind them.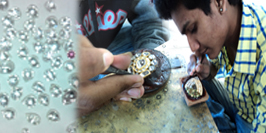 Kundan Jadai Process
As the diamonds used in Jadau Jewellery are flat diamonds(uncut diamonds, (also known as Polki diamonds)). The silver foil been fixed behind diamond is known as Daank in hindi, the daank gives the Diamond a extra sheer and shine. The Kundan is now fixed on sides of stones with the help of small pen like iron sticks (known as Salaai in Hindi). After Kundan being fully inserted into sides, now the turn comes of making the kundan look neat by scrapping it from sides.(known as Chilai in hindi). After Chilai is done the Jadai process is now complete.